AMES

is your

COMPLETE

drywall

SOLUTION

For 75 years, AMES has served the needs of the drywall industry through its commitment to market development, product innovation, and service delivery.

AMES pioneered the development of automatic taping and finishing tool technology in the 1930's, dramatically improving the speed, quality, and efficiency of the professional finisher. The company continues to build industry leadership by investing in three strategic initiatives: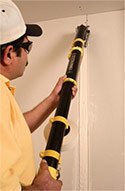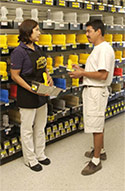 Customer Focus
AMES has developed unsurpassed quality standards and controls to ensure consistent production and availability of its drywall finishing tools, supplies, equipment. Over 180 employees nationwide are dedicated to serving the needs of drywall finishers.
Technology Leadership
AMES leads the world in the design, manufacture and distribution of automatic taping and finishing tools. AMES automatic taping and finishing tools are the most advanced and efficient tool systems used by the drywall industry today.
Distribution Network
AMES has the industry's largest retail operation, delivering drywall finishing tools and services through a network of company-owned and franchise operations in the fastest-growing residential and commercial construction markets in the U.S. and Canada.